Do you know what they are?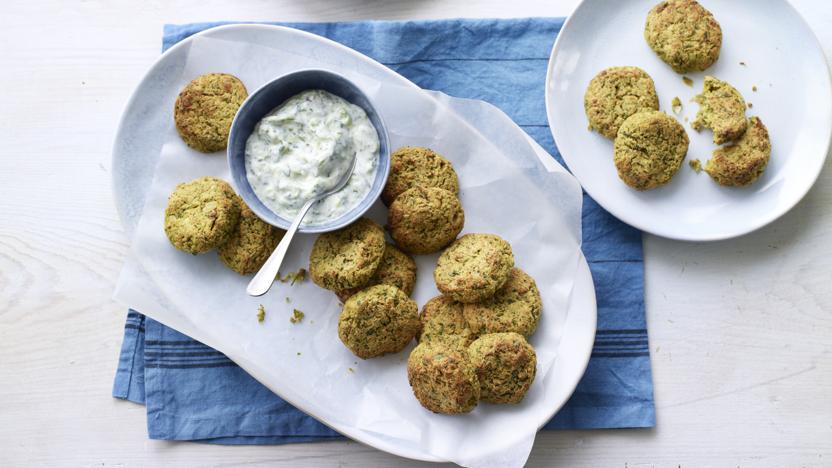 Falafel are a Middle Eastern street food of flavorful balls of ground chick peas or fava beans mixed with herbs and spices, fried and topped with tahini and hummus, served with lettuce, cucumber, tomato and pickled onions in a pita pocket.
The first time I tried a falafel was on Shakedown Street at a Grateful Dead concert. I didn't like them. At all. I tried them several times since (usually at a Dead show) and still didn't like them. I narrowed it down to a particular spice that is a constant flavor used in them that just doesn't agree with my taste buds. I believe it is the ground coriander that I don't like, so I did not use it in mine. I used fresh chopped parsley instead and they were enjoyable, albeit a little dry.

It had been a very long time since I have tried them since my experience was always the same. However, I tried them again recently at a dinner party at a friend's and they were absolutely delicious. Then, last September, my daughter took a ten-day trip to Israel where she had hummus and falafel everyday and really enjoyed them. She loves to cook, so we decided to try making them. They are usually fried in oil, but we baked ours, slightly overbaking them in the process so they came out too dry, but still very tasty. We will be frying them next time as a lot of the flavor comes from the oil.

I used my tried and true cashew & cucumber dressing recipe in place of the tahini dressing typically used on them, but blue cheese dressing would also go really nicely if you like that sort of thing!
If making these at home is not for you, try FreshPita at Powder Mill Creamery on Putnam Pike across from Waterman Lake. It might be a great place to try it out for the first time and you won't have to go all the way to Providence!
I hope you try them! Let me know how it goes!
Thanks to Denise at Sweet Peas and Saffron for this recipe:
Crispy Baked Falafel Recipe
Ingredients
▢1 cup dried chickpeas soaked at least 12 hours
▢3 cloves garlic minced
▢2 teaspoons ground cumin
▢1 teaspoon ground coriander (sub fresh chopped parsley)
▢¼ teaspoon cayenne
▢½ teaspoon baking powder
▢½ teaspoon black pepper
▢½ teaspoon salt
▢1 egg
▢2 tablespoons olive oil for brushing tops
Instructions
Soak – soak 1 cup of dried chickpeas in 4 cups of water overnight.
Prepare – After soaking, drain the liquid and transfer the chickpeas to a 7-cup food processor fitted with a steel blade. Pulse for 1-2 minutes, until it resembles the image below. It should be processed into small pieces but not completely pureed. Add the minced garlic, cumin, coriander (or fresh chopped parsley), cayenne, baking powder, salt, pepper, and egg. Process using the pulse function on the processor until all ingredients are well mixed in.
Shape – Using a 1.5 tablespoon cookie scoop, form disk-shaped falafels, patting them into shape with your hands and arranging on a parchment-lined baking sheet.
Bake – Carefully brush tops with olive oil. Bake for 15-20 minutes at 400ºF, until lightly golden.
Pan Fry – If you are frying, heat the oil and have 4-6 ready to put in the pan at the same time. Fry 3 minutes each side or so until golden brown (flip gently so they don't crumble).
If you want to deep fry, keep them in a ball shape instead of a small patty shape.