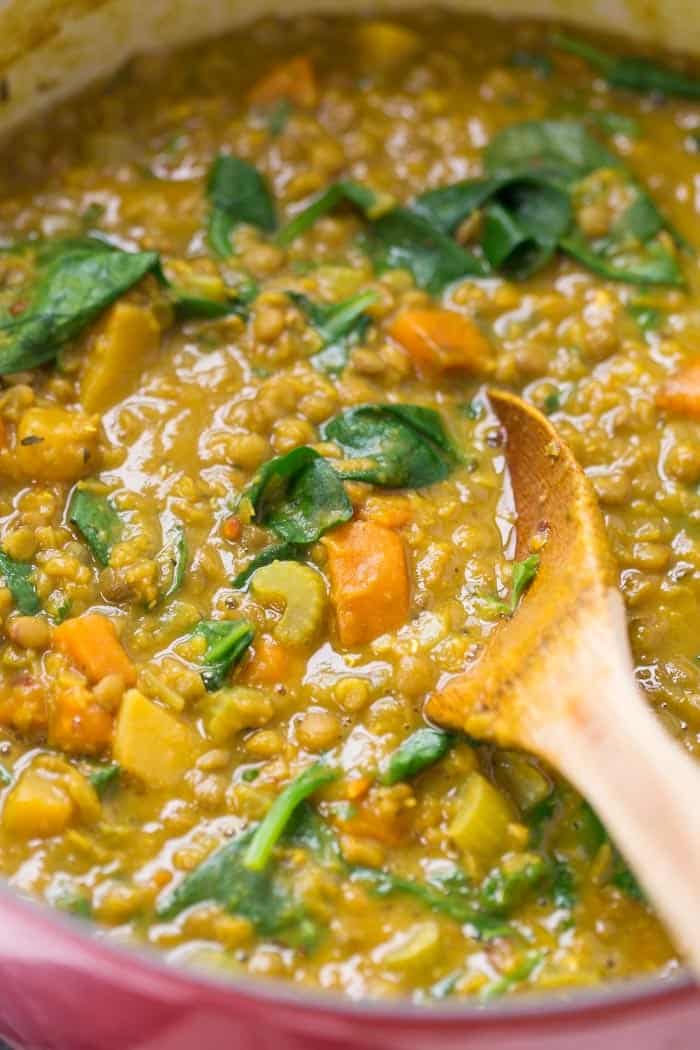 Although I did indulge in a whole mess of sweet treats this holiday season, I still enjoyed quite a bit of whole food meals centered around a hearty and home-made bowl of soup!
Lately our go-to soup has been my daughter's recipe for broccoli cheese soup and it has been so satisfying, and paired with my homemade garlic herb biscuits….OMG! Now we are talking love and JOY!
We have a tradition in our family of making lentil soup come January to ring in the New Year. The variety of lentils in this soup symbolizes is a wish for many great accomplishments, health and abundance for the coming year. I know my cousin also makes a version of this and maintains this as a tradition in her family as well.
Typically, I eat raw, sprouted lentils in many different recipes throughout most of the year and they are fantastic that way! But as the weather chills, I crave warm foods. There is nothing like a warm bowl of hearty soup by the fire on a cold winter's day. So if you make this recipe, please post it to your instagram with the tag #raindropfisher #randropsrecipes or #healthierfitlifestyle, or all three! What a JOY it will be to see how yours comes out. So I will stop talking now and give you the recipe…en-JOY!
Check out some of the awesomeness that goes into this soup:
Lentils: high in protein (11g per serving) and high in fiber which is important for our digestive system. Our digestive system is responsible for absorbing the good nutrients in our food and getting rid of the unwanted waste, so when we eat food (like lentils), we're helping our digestive system do its job more effectively.
Turmeric: the active component in turmeric that is so great for detox (and gives it that amazing golden color) is curcumin. Curcumin has been shown to not only help reduce inflammation, but also support, and even enhance, the production of bile in the gallbladder. Bile not only helps the liver flush out toxins, but it also rejuvenates liver cells!
Sweet Potato: one of the things we love about sweet potatoes, aside from their flavor, is how high they are in fiber and antioxidants, both supporting our digestive system and liver.
Garlic: these little cloves of goodness aren't just for flavor! Garlic has been shown to have healing properties including supporting a healthy immune system, and is high in Vitamin C and antioxidants, which help support the liver and kidneys.
Ingredients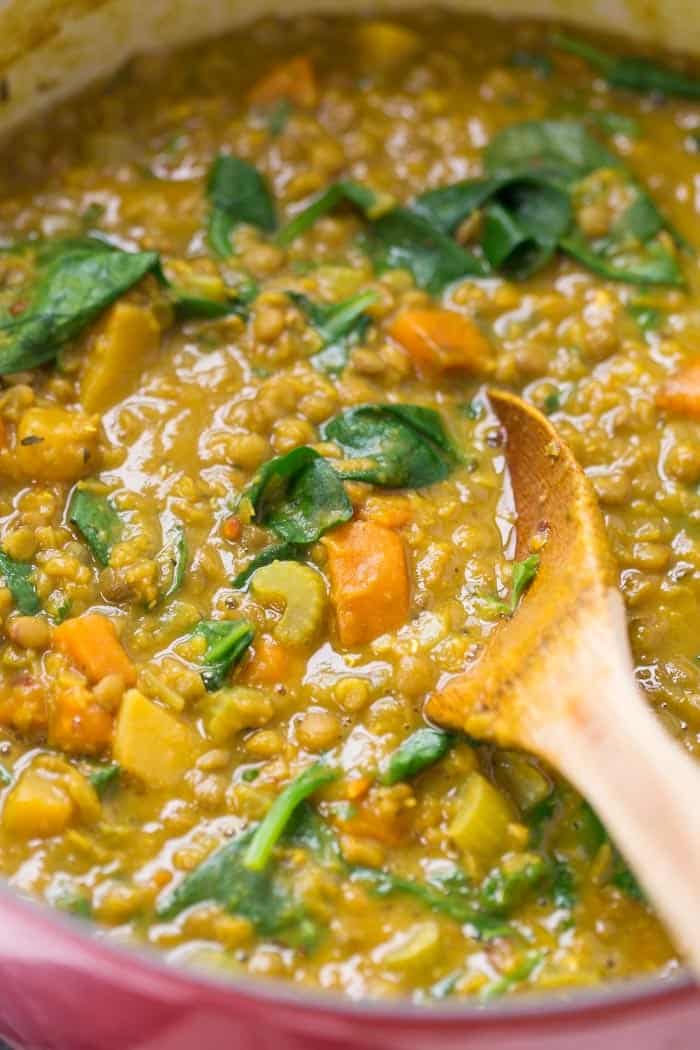 1 tablespoon avocado, coconut or grapeseed oil
1 cup chopped onion
1 cup chopped celery
1 cup chopped turnip or potato
2 minced garlic cloves
1/2 teaspoon red pepper flakes
1 teaspoon sea salt
1 teaspoon black pepper
2 teaspoons dried thyme
1 cup green or brown lentils
1 cup red lentils
2 1/2 cups chopped sweet potato
1 – 2 tablespoons turmeric
1 teaspoon ginger
1 teaspoon cumin
4 cups vegetable broth
2 cups water (as needed to cover veggies)
1 cup fresh chopped spinach
1 cup fresh chopped parsley
1 teaspoon lemon juice
Instructions
Heat the oil in a large stockpot or dutch oven. Add onions, celery, turnip, potato, garlic and red pepper flakes and saute for about 5 minutes until everything softens slightly. Season with salt, pepper and thyme and cook about 2 minutes.
Add lentils, sweet potatoes, turmeric, ginger and cumin and saute 1 – 2 minutes, then add the broth and bring the soup to a boil for about 5 minutes. Add water, if needed, enough to cover veggies, cover the pot and reduce to simmer for 30 minutes or until potatoes are softened.
Remove from heat and add spinach, parsley and lemon stirring until spinach has wilted. Serve and en-JOY!